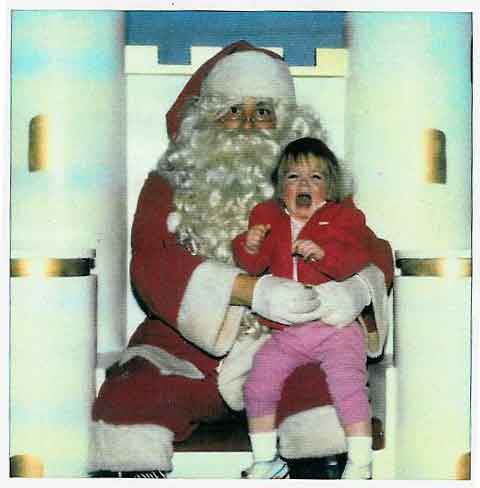 With the recent mailing out of the Wolf Christmas card, I expect a few new readers to Wolfden V. I managed to talk my way into a cheap plug in the last line of this year's letter, which should expose this humble blog to at least four new people. And to you, I say welcome.
Allow me to give you a little tour of the site. No doubt you are overwhelmed by the tremendous amount of information and good humor present. I wish to introduce you to the topics covered and the overall composition of Wolfden V that make it a leading blog for readers who know me, have free time, and click over once a week or so.
You'll notice a familiar trend with the posts in which I start with a picture that sets the tone for the rest of the piece. In this case, I selected a comical photo of a little girl sitting on the lap of Santa Claus. In the past, this photo has included ESPN anchor
Stuart Scott
, Chicago Cubs' pitcher
Carlos Zambrano
, and
photos
everyone wishes were splashed across the front page of CNN.com of themselves.
The text of my pieces tend to vary. I enjoy writing about news stories such as the never ending
Don Imus
scandal,
Regis Philbin's
heart surgery recovery,
Shia LaBeouf
trashing a Chicago Walgreens, and
Pope Benedict
issuing the 10 Commandments of Driving.
Other times I relate personal stories such as
inconsiderate neighbors
,
Minnesota booger pickers
,
my inability to change a tire
, and
interactions with local area businesses
.
Long time readers know that my favorite topic to write about is my beloved game show The Price Is Right. I have taught readers tricks on
how to win
. I have also attempted a few blow-by-blow accounts such as when I did a live blogging of one of Bob Barker's
last shows
and a live blogging of
Drew Carey's
first ever Price Is Right programs.
What would a personalized blog be without political commentary? I have offered equal time to key candidates investigating an
Independent Party dark horse
, aviation adverse
Democratic Presidential hopefuls
, and the next
President of The United States of America
.
The most common topic, though, is the saga of the worst car ever constructed: my Saturn. I have outlined my car's crumminess on several occasions, namely
here
,
here
,
here
, and
here
.
Occasionally I touch on serious topics like
Chris Benoit's
murder-suicide and the I-35W
bridge collapse
.
On the right side of the blog, you'll find some of my particular favorite websites. They are a hodgepodge of friends' blogs, sports news, and satirical web sites. All of them are worth a click, but if I had to pick one, I'd pick the one I wrote a
guest piece
for. Cheap plug!
I used to post 5 days a week taking the weekend off, but as I have had my free time eaten up by my return to school, posts are now less frequent. I try to get 1 or 2 in a week, but I'm fairly inconsistent. This forum is one I use at my leisure for normally sarcastic commentary on whatever is on my mind. I hope that you'll stop by often and offer comments as you are moved.