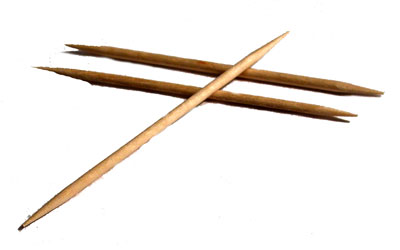 Walgreens
,
Walgreens
,
Walgreens
. We attract such a diverse group of people, and spending a tremendous amount of time in the store during the holiday rush, I run into a great many of them. One individual stood out this past week, introducing me to an entirely new world of collectibles.
I was rushing around the store this past Saturday when a little old lady cornered me with coupon in hand. The scene was no different than what I interact with a hundred times a week. The woman wanted to know where these holiday toothpick holders were that were featured on page 18 for the
unbelievable
price of 39 cents. Unfortunately, the rest of Golden Valley had already jumped on this incredible deal, leaving us out and the woman out of luck.
The customer was incredibly disappointed. Seeing the disproportionate amount of weight people place on odd items, I cannot say that I was altogether surprised. But there was something about this woman that moved me to go a little extra for her. I offered to call a neighboring store to see if they still had any of these elusive toothpick holders. She perked up and eagerly jumped at my suggestion.
Having never used or even seen a toothpick holder used before, I was doing the mental gymnastics trying to wrap my head around this situation where a little old lady wanted a Santa Claus toothpick holder so badly she would be willing to travel for it, which given her current state, was going to be of some effort.
Perhaps sensing my confusion over the fuss for this item, she began explaining its value to her. She collected toothpick holders. I was amazed that there was even such an item, let alone people who collected them. I, in other words, said as much to the lady. She replied with a very serious tone that she was a member of the National Toothpick Collectors Society. I was befuddled.
Upon returning home, I looked up the National Toothpick Holder Collectors Society (
NTHCS
) and sure enough, there is a group of people that do in fact collect toothpick holders. Their
website
reveals that they have been in existence since 1973 boasting 700 members. They even have a national convention:
The 32

nd

Annual Convention will be held in Chattanooga, TN on August 15 - 19, 2007. Convention events include educational seminars, an all-toothpicks auction, local attractions, an ID Clinic, competitive displays prepared by members, and we will enjoy a dinner cruise aboard the Southern Belle.
I am curious as to what educational seminars entail, as a toothpick holder strikes me as a fairly straight forward device. An ID Clinic? If nothing else, I'm sure the dinner cruise was something.
Not just anyone can join the
NHTCS
, though. They have a dues system with admission to the elite club priced at $20 for an individual or $25 for a couple. The payment does entitle you to 10 issues of their newsletter, which probably contain pictures of my dear
Walgreens
' customer. Admission to the club does open up the
locked
portion of the website labeled
NTCHS
Members Only. Why do hackers waste their time with Microsoft? Someone get into this link and let us know what's going on behind closed doors with this secret society.
Photo from
All Things

Ukranian