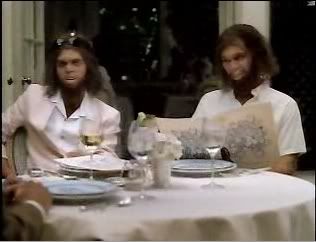 The latest from the TV world is that the two hairy fellas from the
Geico
Insurance commercials are going to be in a TV pilot. No, seriously they are. If you don't believe me, click
here
.
"(The pilot) features the cavemen as they struggle with prejudice on a daily basis as they strive to live the lives of normal thirty-somethings in 2007 Atlanta."
The brilliant network associated with this project is the almighty ABC where the laughs just keep on coming, don't they? I suppose the hilarity of cave men taking in some Braves baseball with Ross, Chandler, Joey, Monica, Rachel, and
Pheobe
escapes me now, but I have been wrong before.