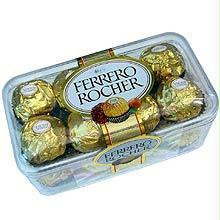 Some time ago, I wrote a
piece
asking the reading public their thoughts on potentially racist tendencies. As I tend to be, I was ahead of the times bringing forward an interesting question facing today's Democratic candidates. Is it racist to point out trends having to do with race?
Geraldine Ferraro, who Becky informed me was an important person in politics before I started caring about politics and who also makes me think of delicious chocolate (above) that retails at a high price, pointed out that Obama's campaign was successful because he was black.
Is that such a controversial comment? I can see where it is interpreted that black individuals don't care enough about the individual candidates and will only vote on skin color, which makes it borderline at best. On the other hand, is it so wrong to vote for someone that looks like the majority? After all, the Caucasian majority in this country has voted for a Caucasian every single Presidential election.
The problem, of course, is that these are all superficial reasons for voting for someone. And that's pretty stupid in the end. Shouldn't we care more about the message than the color or sex of the one giving the message?
We probably should, but we probably don't.
"As has been the case in many primary states,
Obama
won overwhelming support from African-American voters. They went for him over
Clinton
91-9 percent...But Mississippi white voters overwhelmingly backed the New York senator, supporting her over Obama 72 percent to 21 percent."

This quote from
CNN.com
and it sure does make it tough to blame Geraldine Ferraro for saying her piece. The numbers sure support what she said, regardless of how hard it may be to hear.
Photo from
ShoppingatRediff.com